47

Sleep

Martha Lally; Suzanne Valentine-French; and Dinesh Ramoo
During early childhood, there is wide variation in the number of hours of hours of sleep recommended per day. For example, two year-olds may still need 15-16 hours per day, while a six year-old may only need 7-8 hours. The National Sleep Foundation's 2015 recommendations based on age are listed in Figure 4.5.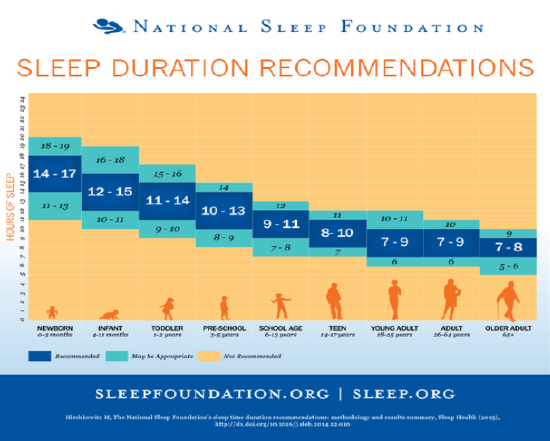 Figure 4.5:
National Sleep Foundation's sleep duration recommendations.
According to Tremblay et al. (2016), children need a recommended 9–11 hours of sleep/night (ages 5–13 years old), and 8–10 hours of sleep/night (14–17 years old). However, recent evidence suggests that one in four children are not getting enough sleep. Carson et al. (2016) report that hyperactivity in 17.2%, stress in 21.5% and poor mental health in 11.2% of children who get insufficient sleep. Therefore, a good night's sleep is essential for physical wellbeing, emotional wellbeing as well as overall quality of life.
---