Preparing to take notes means more than just getting out your laptop or making sure you bring a pen and paper to class. You'll do a much better job with your notes if you understand why we take notes, have a strong grasp on your preferred note-taking system, determine your specific priorities depending on your situation, and engage in some version of efficient shorthand.
The very best notes are the ones you take in an organized manner that encourage frequent review and use as you progress through a topic or course of study. More than just a skill for being a student, taking organized and efficient notes is an important skill in many industries.
For this reason, you need to develop a way to organize all your notes so they remain together and organized. As old-fashioned as it sounds, a clunky three-ring binder is an excellent organizational container for class notes. You can easily add to previous notes, insert handouts you may receive in class, and maintain a running collection of materials for each course. If the idea of carrying around a heavy binder has you rolling your eyes, then transfer that same structure into your computer files. If you don't organize your many documents into some semblance of order on your computer, you will waste significant time searching for improperly named or saved files.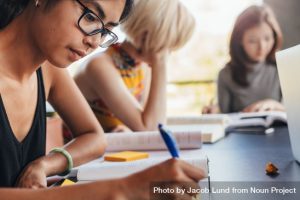 Managing Note-Taking Systems
Whichever of the many note-taking systems you choose (and new ones seem to come out almost daily), the very best one is the one that you will use consistently. The skill and art of note-taking is not automatic for anyone; it takes a great deal of practice, patience, and continuous attention to detail. Add to that the fact that you may need to master multiple note-taking techniques for different contexts, and you have some work to do. Unless you are specifically directed by your instructor, you are free to combine strategies from different systems to create a hybrid that works for you.
Just to keep yourself organized, all your notes should start off with an identifier, including at the very least the date, the course name, the topic of the lecture/presentation, and any other information you think will help you when you return to use the notes for further study, test preparation, or assignment completion. Additionally, you may note the number of note-taking sessions about this topic or reminders to cross-reference class handouts, textbook pages, or other course materials. It's also always a good idea to leave some blank space in your notes so you can insert additions and questions you may have as you review the material later.